People
A community oriented island
The family-owned island is a perfect balance between feeling at home and a real change of scenery. Most of the native islanders resisted the urge to sell land to big corporations.

So far, this philosophy paid off and resulted in a harmony between low-carbon impact tourism and the traditional thai way of life.

Koh Mak people will probably become your second family.
History
It is said that the island was first settled by Chao Sua Seng, who established a coconut plantation, and who occupied the post of Palad Jeen, or Chinese Affairs Officer, during the reign of King Rama V (King Chula-longkorn).

Later, Chao Sua Seng sold his coconut plantation to 'Luang Prompakdii', Plian Taveteekul, who also held the post of Chinese Affairs Officer and who came originally from Ban Koh Po in Prachankiriket province. This is now the province of Koh Kong in Kampuchea, but at the time it was a province of Thailand.
Learn more
Geography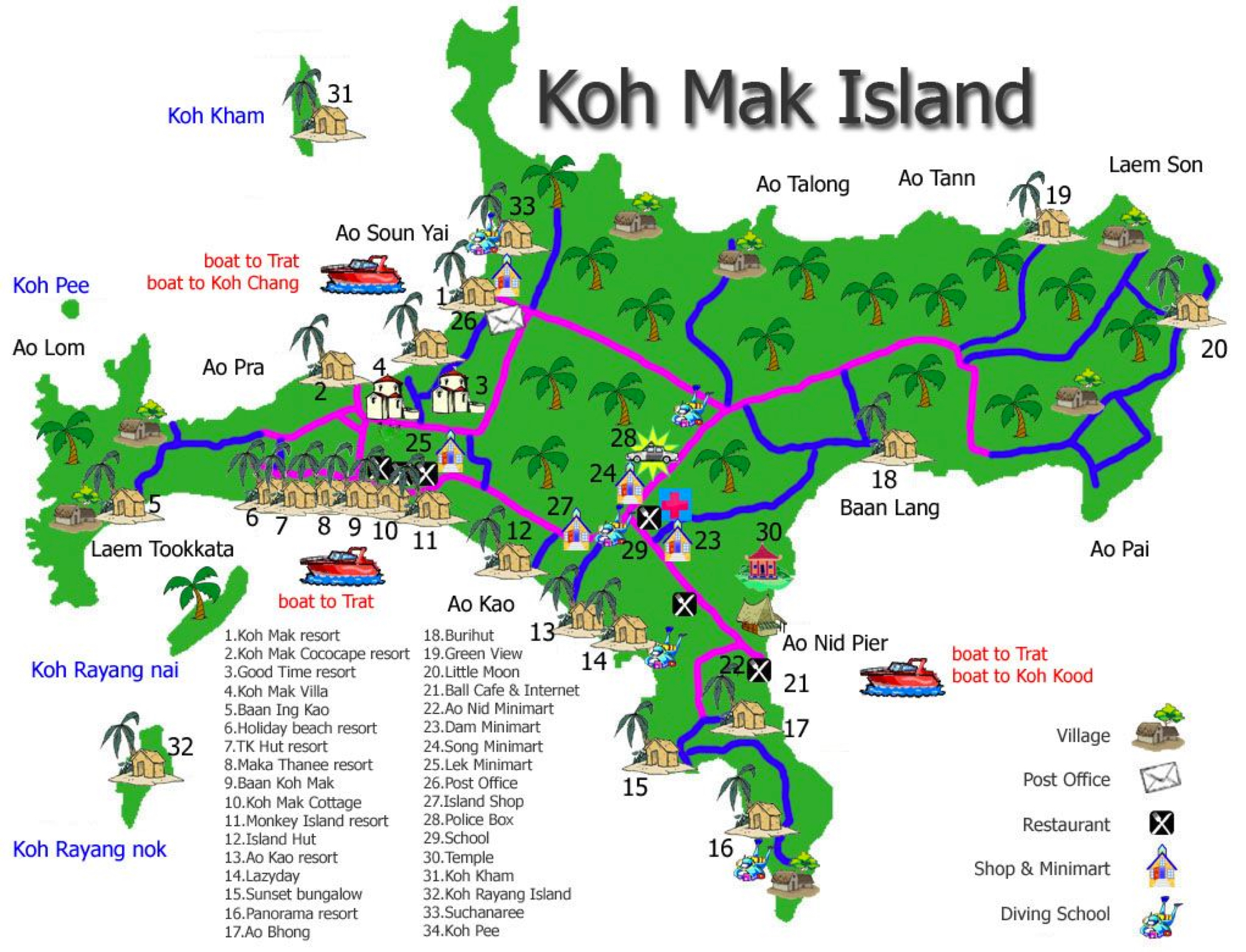 Koh Mak has an area of 9,500 sq rai (16 sq km) of which 500 sq rai is public land. The remainder is made up of coconut and rubber plantations and is owned by 5 families. Three of these families can be traced back to the chinese ambassador.
There are 2 villages on Koh Mak "Ban Ao Nid" on the Easthern coast is home to 50 families and has a population of 210 and "Ban Laem Son" in the north of the island has 39 families with a population of 124. The total population of Koh Mak and the Koh Mak sub-district is nearly 900 this includes neighbouring islands Koh Rayang Nok, Koh Rayang Nai, Ko Pee, Koh Kham, and Koh Kradat. In total there are 21 islands, 9 habited and 12 uninhabited that make up the Koh Mak sub-district. Koh Mak is the 3rd largest after Koh Chang and Koh Kood.
Koh Mak is approximately 10 km from north to south and 5 km from east to west. The coastline is 26 km and has many beautiful white sand beaches. In particular the beaches of "Ao Suan Yai" on the west side and "Ao Kao" on the south side are long and deserted.
Most of the island is still covered by coconut and rubber plantations which is the island's main export products. Many of the locals also make handicrafts from coconut shells, batik fabrics and furnitures. The oil extracted from coconuts can also be refined into a medical oil.
The majority of local people still work as farmers in the coconut and rubber plantations or as fisherman. There are 24 resorts on Koh Mak, this also generates employment for many of the local people.